Terraclean
Fuel Rectifiers Ltd brings to you the absolute latest in technological breakthroughs, TerraClean proven technology for performance and fuel efficiency.
Our TerraClean service is Mobile covering Essex London and Kent, we come to you when "you" want us!! 7 days a week. Not when they want you.
TerraClean is one of the best tune-ups we've seen for a long time. Through removing carbon from your combustion chambers, injectors, sensors and CAT it restores the engines efficiency giving in most cases a brilliant feel good factor.
Carbon deposits have a negative effect on efficiency which TerraClean will restore. Once restored you will notice:
Restored fuel economy – some owners have gained around 6 MPG
Regain vehicle performance – the car will run more efficiently, be more responsive – some owners have regained an extra 5 BHP
Smoother idle by increasing Lambda efficiency
Quieter running through cleaning the Nox sensors
Saves on costly repairs through prolonging component life
Gives immediate drive away difference
Less smoke from the exhaust
Contact us
Freephone 0800 999 5583
Darren's Citroën C3 Picasso was being a bit stubborn in low revs and pick up. He asked us to Terraclean it to see if it would help. Here's in his words what he said after a few days.
"Car has great pick up and acceleration is like new and low speed is so smooth!! Well done Terraclean, another happy customer."
The "wow" factor got to Danny after we Terracleaned his Alfa Romeo Brera 3.2 ltr. Not really expecting a big improvement and just wanting to look after it he asked for the Service to be done. After the test drive Danny couldn't believe the difference in performance.
"It's not lagging between gear changes anymore and it just continues to pull!"
Good on you again Terraclean!
It was family and friends today Matthew organised a Terraclean on 4 cars and not only gained better running cars for his mates but got a good discount as well. Everyone was totally rapt with the results and will be happy to pass on the benefits of a Terraclean. Alan felt like the car had been remapped, it is a massive difference! Kevin said the lagging between gear changes has gone, it's got more torque and is pulling better! Dave said it's a lot faster, smoother and more responsive! Matthew's 12 plate low mileage car is a lot smoother and quieter running.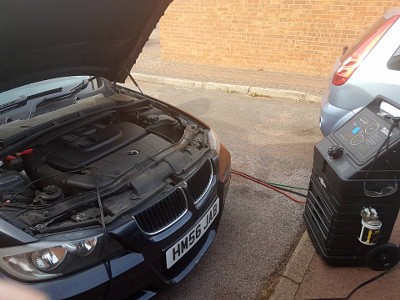 Colin asked us to Terraclean his Jaguar S type 2.7 Twin Turbo. He was just doing routine maintenance, or so he thought. After a long trip Colin gave us some feed-back on Terraclean and felt it was amazing, a noticeably better response and much smoother running performance. Colin also feels that there is a much improved MPG and is now doing in depth recordings and will report back later.
Hash was well pleased with the results after his BMW 318D had the Terraclean treatment. The service cleans the inside of the fuel lines and injectors which gets a build up of varnish like substance - similar to lime scale in your plumbing. Then it cleans the combustion chambers and sensors restoring performance and efficiency.
Jimmy really looks after his Audi 2.7 SE TDI and was concerned that it was idling lumpy and had lost its normal grunt. We Terracleaned it yesterday and Jimmy put it through it paces this morning. He just contacted us to say thanks and can't believe what a difference a Terraclean service can make. It's got its former glory back, is smoother, quieter and has got that grunt back.

0% 4-month finance on ALL our products
0% 4-month finance on ALL our products